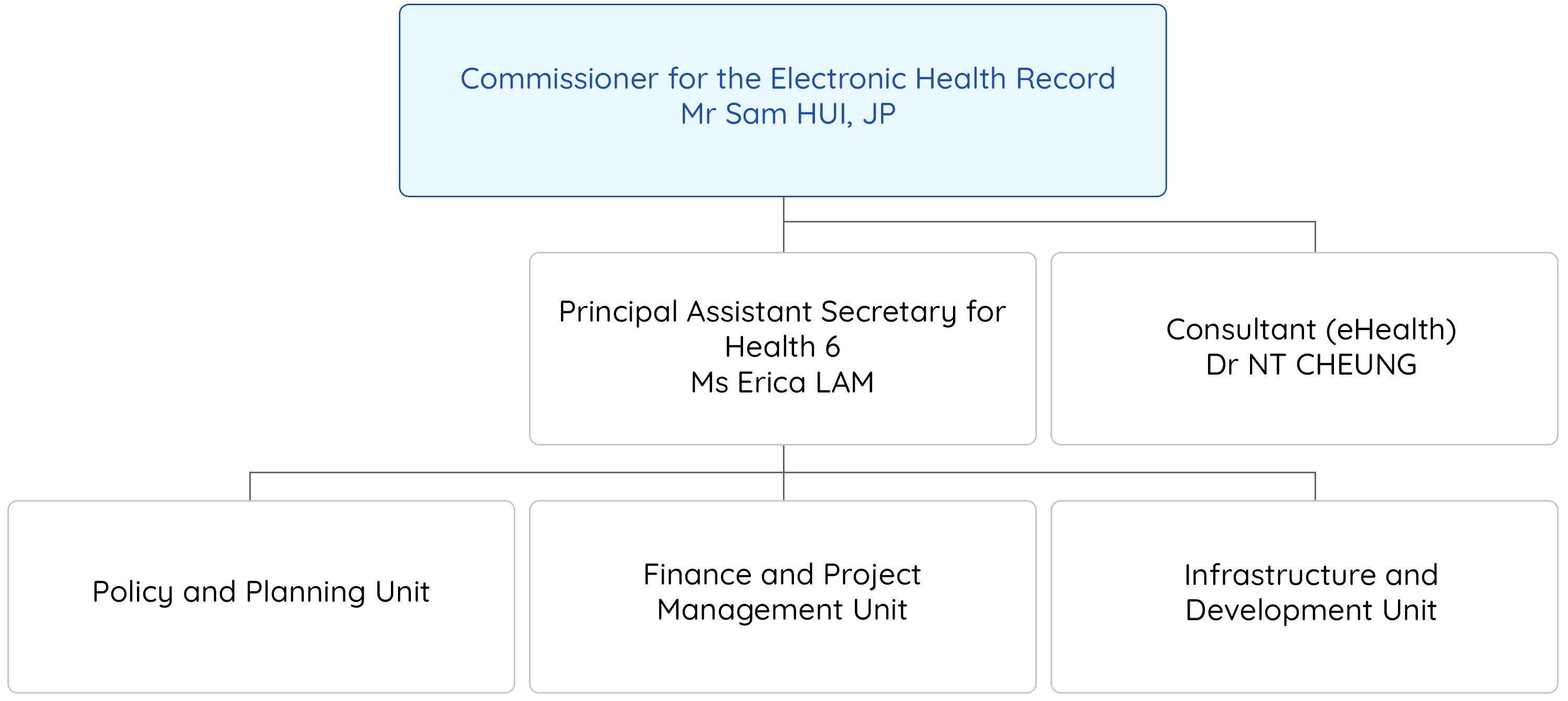 The Electronic Health Record (eHR) Office is to-
Spearhead and coordinate the overall eHR programme;
Conduct consultation with stakeholders and the public, oversee policy matters and legal issues related to eHR;
Invite proposals from the private healthcare and IT sectors for development of electronic medical / patient record and interfacing with the eHR Sharing System;
Develop common technical standards and operational protocols related to eHR sharing;
Operate and manage the eHR Sharing System; and
Administer the participation and registration of patients and healthcare providers in the eHR Sharing System.
Policy and Planning Unit
Assist in formulating the overall eHR policy and development strategy;
Examine the relevant legal issues and devise both short-term interim solutions as well as long-term legal framework;
Develop and oversee the long-term institutional arrangements for the governance and maintenance of the eHR sharing infrastructure;
Devise action plans for the eHR development programme; and
Promote the development of eHR in private sector and the community.
Infrastructure and Development Unit
Develop, operate and maintain the eHR sharing infrastructure, architecture and standards with the support of dedicated eHR teams from the Hospital Authority IT Services and Department of Health;
Oversee and monitor the development of the eHR Sharing System and related projects for eHR development according to the eHR blueprint;
Formulate security policies to safeguard the security and integrity of sensitive personal data stored in the eHR Sharing System; and
Monitor the implementation of the relevant standards, specifications and protocols in eHR sharing by private healthcare providers.
Finance and Project Management Unit
Manage the resources for development and implementation of the eHR Sharing System;
Provide support to procurement and contracting activities of the eHR Office;
Administer, oversee and monitor the publicity, promotional and enrolment activities of the eHR development programme, including the partnership projects with private healthcare providers and IT service providers;
Assist in overseeing control management processes to ensure that the programmes are developed and implemented according to their objectives; and
Provide administration support for the eHR Office.