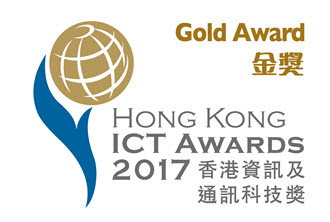 The Electronic Health Record Sharing System (eHRSS) developed and operated by the Food and Health Bureau (FHB) of the HKSAR Government and the Hospital Authority (HA) won the Best Business Solution (Application) Award (Gold Award) in the Hong Kong Information, Communications and Technology (ICT) Awards 2017. The Best Business Solution (Application) Award honours and promotes examples of successful and effective applications of ICT, and commends organisations that have successfully incorporated IT into existing business operations. The award was presented to FHB and HA at the Hong Kong Club Building on 31 March 2017.
The territory-wide eHRSS was launched in March 2016 to provide a new information infrastructure for multi-way sharing of patients' electronic health data by participating public and private healthcare providers in Hong Kong. With patients' consent, healthcare professionals of authorised participating healthcare organisations can access patients' electronic health data for healthcare purposes. eHRSS has brought in new ways in the provision of healthcare services through information sharing and collaboration between the public and private sectors.
"We are honoured to have this prestigious award and grateful for the recognition we have received," said Ms Ida LEE, Head (Electronic Health Record), Electronic Health Record Office of FHB. "The introduction of eHRSS enhances continuity of care as well as facilitates better integration of different healthcare services for the benefits of people in Hong Kong. It also provides the infrastructure to support the healthcare reform and the development of new healthcare service models such as public‐private partnership. eHRSS promulgates open standards and uses structured data for sharing, thus enabling healthcare professionals to make better clinical judgement and facilitate the development of ICT solutions for the health sector."
Since its launch, eHRSS has received favourable response from the community and the healthcare sector. As at end-March 2017, over 430,000 patients and 1,200 healthcare organisations have already registered with the system. The Finance Committee of the Legislative Council has also recently approved a funding commitment of $422 million for the Government to take forward Stage 2 development of eHRSS with the aim to further enhance the functionalities of system and increase adoption in the private health sector.