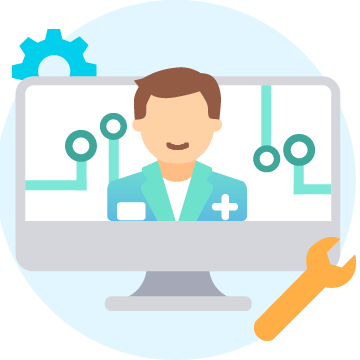 Electronic health record service provider
Electronic health record (eHR) service provider (SP) could provide end-user support services to healthcare providers on the installation and maintenance of Clinical Management System (CMS) On-ramp, which is a clinic management software that enables clinics to smoothly connect to the Electronic Health Record Sharing System (eHealth) for sharing of patients' clinical data.
List of IT service providers
Remarks on the list of eHR SP
The list of eHR SPs represents IT service providers who have attended the training programme of eHR SP coordinated by the Government. The information in the list is provided by the IT service providers on a voluntary basis.
The Government does not make any specific recommendations or warranties about the service quality of individual eHR SP, or their respective service charges. This list of eHR SPs, therefore, should not be regarded as recommended by the Government.
The selection and appointment of any eHR SP in this list is purely a private matter between the healthcare provider and eHR SP and any service agreement should be directly agreed between them.
Alternatively, healthcare providers may install the CMS On-ramp themselves but they will have to attend the same eHR SP training programme beforehand. For use of CMS On-ramp to support clinic operations, healthcare providers need to sign the CMS On-ramp licence agreement.