Invitation for eHR Partnership – Private Healthcare Sector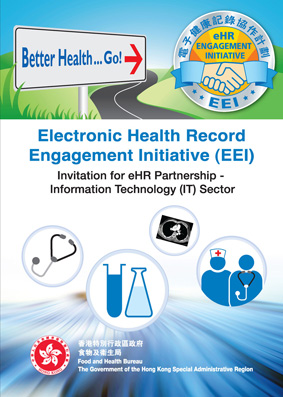 The eHR Office launched the first stage EEI invitation in October 2009 to invite private healthcare stakeholders to submit partnership proposals contributing to the development of the territory-wide eHR Sharing System.
Submission of final proposals for the first stage EEI was closed in February 2010. Over 50 EEI proposals were received from private healthcare and related sectors.
Implementation of on-going engagement plans for the first stage EEI partnership proposals commenced in mid 2010. EEI proponents were invited to join focus groups to discuss user requirements for CMS Extension projects. Briefing programmes will be scheduled regularly to make available eHR technology know-how in possession by the Government or Hospital Authority. Three eHR partnership projects with financial sponsorships were supported.
The engagement of the private sector is an integral part of eHR development. It is an on-going initiative which will continue among all stakeholders throughout the life of the project. The EEI will not end with the close of the invitation, and the Government will consider worthwhile proposals submitted anytime during the development programme.
Stakeholder Forum
Two EEI Stakeholder Forums were conducted on 15 and 22 October 2009 respectively with participation of over 240 private stakeholders.