Embarking on a New Healthcare Service Mode in District Health Centre through eHRSS
Dr Choi Yu-sze, Cissy
Head of Primary Healthcare Office,
Food and Health Bureau
"The Electronic Health Record Sharing System (eHRSS) has an indispensable role to play in connecting the District Health Centre (DHC) with a network of private healthcare providers (HCPs) within the district to deliver targeted, patient-oriented primary healthcare services in the community."
In the last eHealth News, an overview was given on how eHRSS facilitates the Government's new DHC initiative in enhancing primary healthcare services ("eHRSS for DHCs"). In this issue, Dr Choi, Head of the Primary Healthcare Office (PHO), was invited to share the vision of the DHC initiative, her views and experience in commissioning the first centre, as well as the role and potential of eHRSS in the further development of DHCs.
"With an aging population and increasing prevalence of chronic diseases in Hong Kong, our treatment-oriented healthcare system is under immense pressure to meet the growing demand," said Dr Choi. "The commissioning of the first DHC in Kwai Tsing in 2019 brings in a new service mode – a people-centred, prevention-oriented service mode which focuses on enhancing people's awareness of healthy living and disease prevention, and empowering them to manage their health actively."
Behind the scene, eHRSS is the key component in supporting the operation of DHC by connecting a multitude of community partners to collaboratively provide healthcare services to district residents across all ages and varying health status.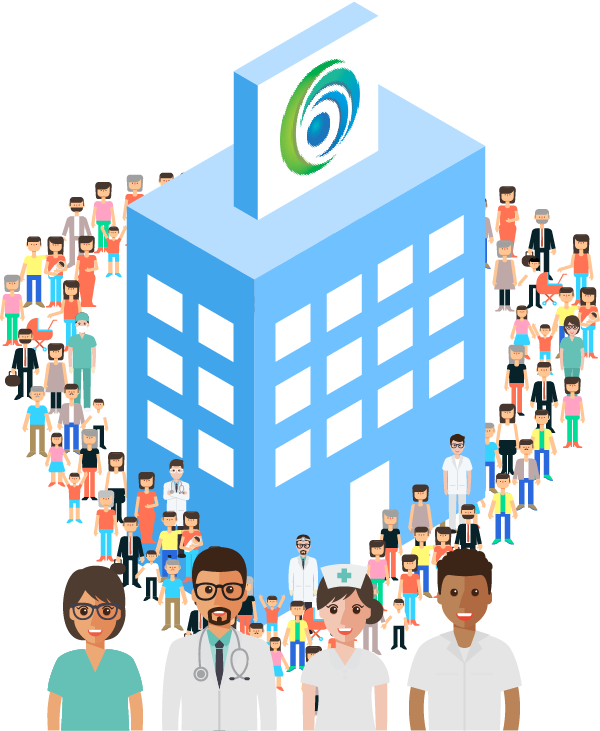 The commissioning of the first DHC in Kwai Tsing in 2019 brings in a new service mode
New Healthcare Service Mode in DHC
Placing primary healthcare at the forefront is important to ensure the sustainable development of the public healthcare system. Dr Choi explained, "All along, much of the focus has been placed on providing hospital, emergency and specialist services. People would tend to visit doctors for treatment only when they got health problems. In the long run, the current mode of the healthcare system will not be able to cope with the demand of an aging population."
"The DHC initiative represents a new way of healthcare in Hong Kong. It aims to enhance people's awareness and capability to monitor their health status, to seek health information and professional advice proactively to reduce the chance of turning into a patient. Put simply, we want to shift the healthcare system from treatment-oriented to prevention-centred," Dr Choi elaborated.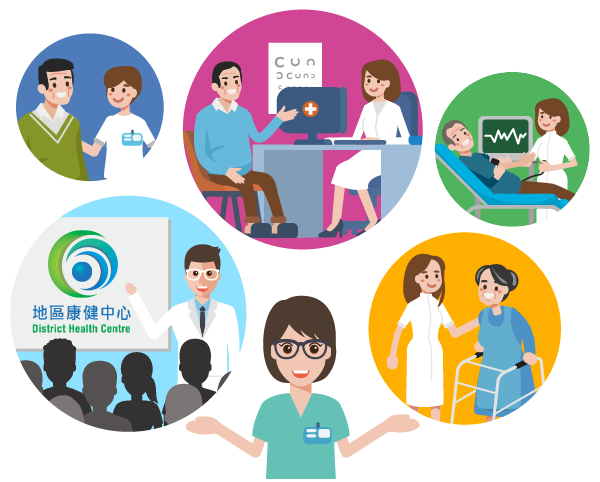 The DHC initiative represents a new way of healthcare in Hong Kong. It aims to enhance people's awareness and capability to monitor their health status
eHRSS as a Facilitator of Medical-social Collaboration at DHC
The DHC serves as a district primary healthcare hub comprising a core centre, supplemented by satellite centres and a network of multi-disciplinary teams providing multiple access and service points for health promotion, health assessment, chronic disease management and community rehabilitation to its users. Talking about how the DHC achieves these goals through this unique service model, Dr Choi said, "eHRSS plays a significant part in this!"
Currently, all HCPs working as partners in the DHC's network and users of DHC services are required to join eHRSS. Leveraging the eHRSS common platform, electronic health records (eHRs) of DHC users could be efficiently shared amongst healthcare professionals (HCProfs) of the network to facilitate them to providing seamless and tailored care and treatment to users.
Dr Choi illustrated with a typical user journey. "For a first time DHC visitor, our Care Coordinator, who is a registered nurse, will conduct a health assessment questionnaire for him/ her, covering physical health conditions, family history, diet and social habits. Based on the assessment results, the Care Coordinator may refer the user to suitable network doctors and/ or allied health professionals for consultation and treatment if indicated, or offer suitable health advice and suggestions on health-related activities at the DHC core centre or satellite centres that may be nearer to where they live or work. For instance, a user with diabetic risk identified may be referred to a network doctor before further follow-up by an optometrist for diabetic retinopathy assessment if the diagnosis is confirmed."
"Riding on eHRSS, our network partners can access eHRs of referred users timely and accurately, without having to repeatedly ask them for the needed information. Investigation results and assessment performed can also be reported back and shared with other HCProfs and the Care Coordinator for reference or follow-up. This is particularly useful in the community setting where meetings amongst HCProfs for case discussion is not easy. It serves as a platform that makes DHC's coordination with its network partners and case management much more efficient and effective," Dr Choi pointed out.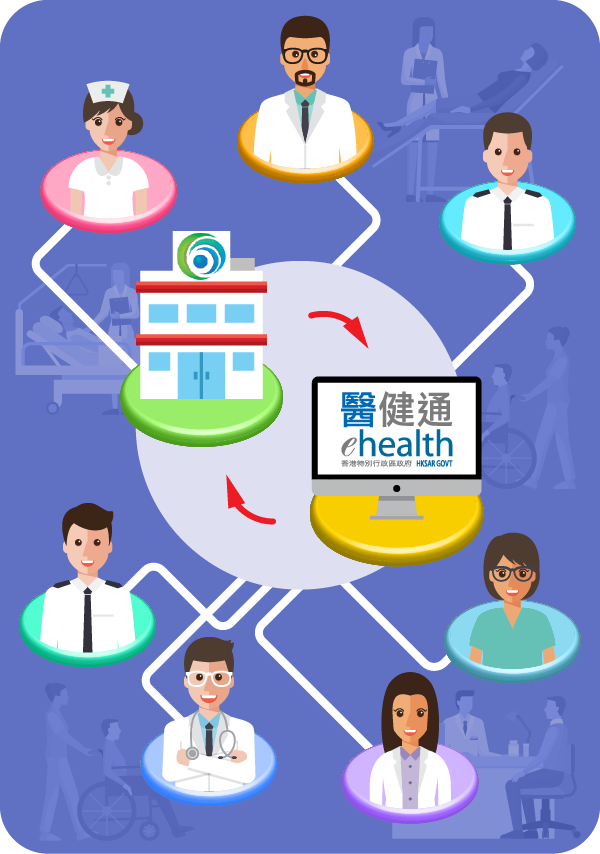 Currently, all HCPs working as partners in the DHC's network and users of DHC services are required to join eHRSS
Challenges and Opportunities Ahead
Since the roll out of the first DHC in Kwai Tsing, positive response has been received from the community. As at end-December 2019, there were over 8 000 service visits, and more than 2 000 members of the public registered as members. Among the service users, besides the elderly, 33% are in their 40s to 60s. Dr Choi attributed this to the higher health awareness of this age group. "Our goal is to serve district residents of all ages. After all, there are different health needs at different ages."
With the experience gained from the first DHC, PHO is now working at full steam with the target to set up DHCs in the remaining 17 districts. Preparation for 6 DHCs is now underway for Wong Tai Sin, Sham Shui Po, Tuen Mun, Yuen Long, Tsuen Wan and Southern District and they are expected to be set up within the term of the current Government while smaller-scale "DHC Express" will be set up in the other districts.
Noting that a user mobile application (App) will be rolled out soon under Stage Two eHRSS to enable users to access their own health records and other public health information (more details at "eHR Mobile Application Coming Soon" ) , Dr Choi remarked, "The objectives of the eHR App in encouraging and empowering users in self-care and self-management of health well match with that of DHC. There will surely be synergy." She suggested that more features could be introduced in the eHR App in the coming phases, such as allowing users' self-input of vital health data, access to DHC's health assessment questionnaire prior to visit, customised information provided according to users' health profile, etc.
"With the increasing recognition of the benefits of primary healthcare by members of the public, the implementation and further development of DHC and eHRSS will contribute to enhancing the continuity of patient care, facilitating the best use of our healthcare resources, and supporting the provision of collaborative and efficient healthcare in Hong Kong as a whole," Dr Choi concluded.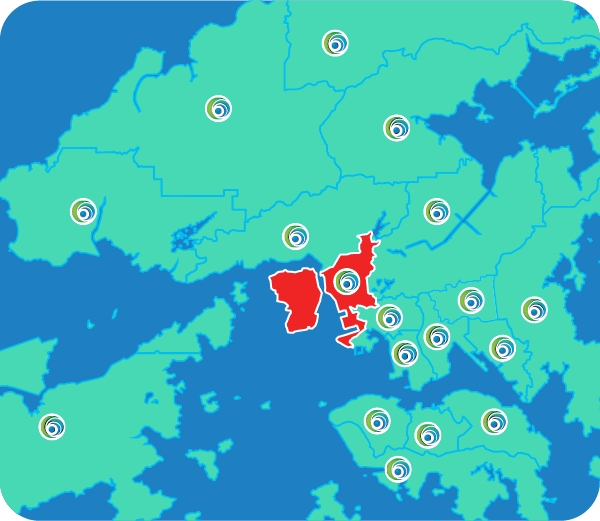 PHO is now working at full steam with the target to set up DHCs in the remaining 17 districts